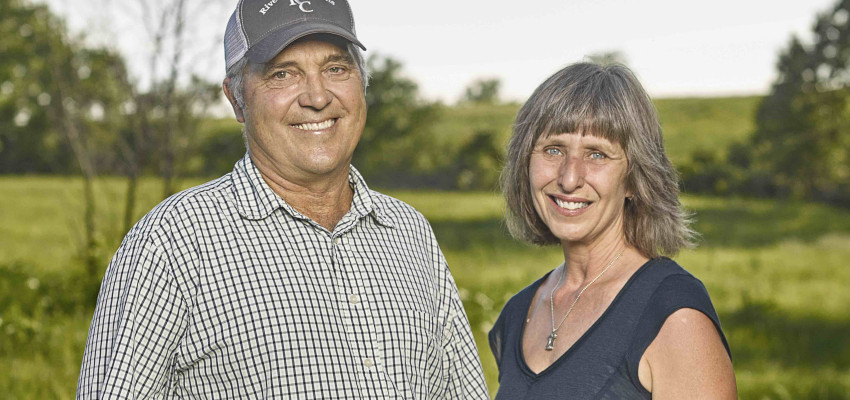 Joe Mertz couldn't help but notice the three female college students attending Kansas State University move in the dilapidated house near his family's farm. The year was 1978.
One of those three college students was Kim.
"We weren't sorority girls," she says. "So we talked a lady into renting us an empty old farmhouse. We taught ourselves to chop wood and thaw frozen pipes."
Joe pondered clever ways to meet them.
"I tried to run over them with my tractor, hoping they would stop," Joe jokes. "One winter day it was snowing a little, so I decided to go to town for cat food. I knocked on their door to see if they needed anything."
"Snowing a little?" Kim laughs. "That's weak; it was a blizzard! I'm glad I was the only one home or he might have married one of the other girls."
Joe's great grandparents started the family farming tradition back in 1891. In the '70s, the farm was named River Creek Farms. The farm lays east of Manhattan between the Kansas River and Deep Creek, ergo the name. Joe and Kim raised four children in the same house in which his parents, Harold and Jeanne Mertz, raised Joe, his brothers Bob, Tom, Jon and sister, Jane.
"There were several big floods before they put in Tuttle Creek Dam," Joe says. "In 1951, the Kansas River flooded and we had to evacuate. Mom was 21, new to living on a farm, couldn't swim and had me, a one-month-old baby. She loaded me in a 12' jon boat in the raging river and made it to safety."
Joe's mother became a strong advocate for agriculture in Kansas. As president of Kansas Agri-Women in the early '80s, she created Sack Signs; a sign of a grocery bag that read: "1 Kansas Farmer Feeds More Than 55 People + You." 
"Mom and Dad travelled Kansas on weekends putting signs up," Joe says. "That was their vacation."
Joe's love for animal agriculture started as a young boy in 4-H and FFA. He judged livestock while attending college.
"In those days, we judged the quality of cattle by sight," Joe says.
While in college, Joe developed an interest in raising Simmental bulls.
"Introducing Simmentals into our Hereford cow herd helped because the breed produces more milk and weight. Hybrid vigor – crossing two breeds – makes for a better animal with higher performance."
Joe quickly adapted to a new way of judging an animal: Expected Progeny Difference (EPD).
"EPDs are measurements of how a bull will perform," Joe says. "Data is collected and put into 11 different classifications."
Each bull has its own set of EPDs, such as calving ease, weaning weight and yearling weight. 
Until 1990, if a customer wanted to buy a bull from Joe, they viewed the bulls on the farm at The Rock Barn.
"In 1990 we started having an annual auction at the Manhattan Commission Company. This year was our 27th sale."
Two of their sons, Abram and Lincoln, own Livestock Direct and help market the bulls by providing a catalog and online videos of the bulls.
"The internet has increased our footprint," Joe says. "We have customers as far away as California."
The auction occurs the second Wednesday of February each year. At this year's sale, 130 bulls were sold in a span of two-and-a-half hours. A little more than a minute is allowed for bidding on each bull; the auctioneer tracks bidders online, on the phone or in person.
"Preparation and follow up are a year-round process," Kim says. "We bring some of the bulls back to the farm then deliver them. We enjoy taking them to customers and listening to their stories. We've had a lot of great cheeseburgers in small town diners."
"There's also a Facebook page that helps us find people to haul the bulls a longer distance," Joe says.
The sophistication of technology and science requires continual education.
"It doesn't matter whether you're raising crops or livestock," Joe says. "Technology is always changing. You have to stay up with it to stay in business."
Harold and Jeanne have both passed away in the last two years. Joe concentrates on the livestock part of the farm and his brother, Bob, focuses on crop production.
A few years ago, the grandchildren of Harold and Jeanne bought a Sack Sign so they could see it from their home.
"The cousins have a football game at Thanksgiving in front of that sign," Kim says. "Harold and Jeanne loved that." 
Today, Jeanne's Sack Signs reads, "1 Kansas Farmer Feeds More Than 155 People + You!" In the next 35 years, when the population reaches nine billion, her sign will need to read, "1 Kansas Farmer Feeds More Than 271 People + You." 
Farms like River Creek Farms are owned and operated by families like the Mertzes. According to the USDA, 97.1 percent of the 2.1 million farms in America are family farms. Of that number, 88 percent are small family farms.
Joe and Kim, like many farmers and ranchers, wear their denim jeans and cowboy boots with a soft Kansas drawl. However, don't let their country charm fool you; they are CEOs, scientists, entrepreneurs, marketing wizzes and global economics experts.
Ask a farm family to tell you their story and you will soon understand why the public esteems the agricultural sector above all others.
They will charm you with traditional family values and amaze you with science.
If you press them, they might even share creative ways to begin a romance in a snowstorm.
---
---