Little Hands, Big Solutions
Students at Colwich Elementary are getting creative to tackle world problems.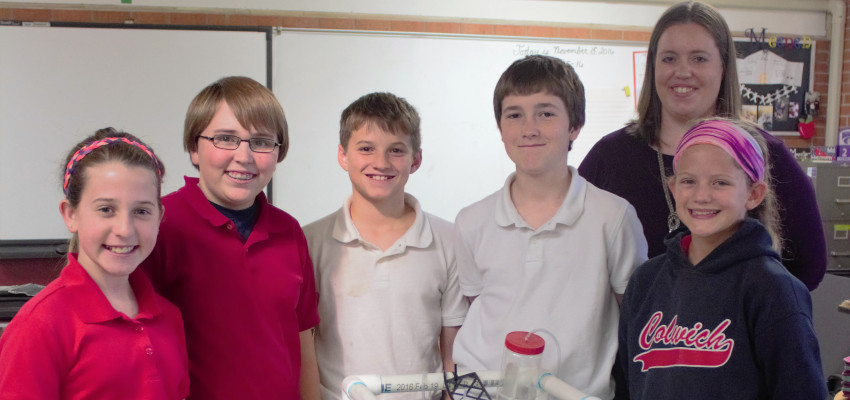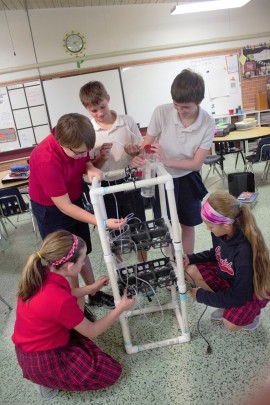 One box filled with PVC pipe, duct tape, plant lights and zip ties has taught five students from Colwich Elementary School that anything is possible when you set your mind to it.
Rachel Meenen's classroom is filled with white boards, desks, partially completed experiments and a box of various supplies from a $500 grant provided by the American Farm Bureau Foundation for Agriculture (AFBFA).
Colwich Elementary School was one of 20 schools selected to pilot the Science, Technology, Engineering and Math, or STEM, "Maker Kit" project.
The grant was incorporated as an after-school, hands-on program where students were challenged to find an efficient way to grow plants while maximizing square footage with the supplies they were given. The kit encourages future generations to research scenarios related to food production and find new ways to sustain food production all year long.
Making Discoveries
For the past 12 years, Meenen has been a teacher at Colwich Elementary School in Colwich, a small town located northwest of Wichita in Sedgwick County. She is continually looking for new ways to give her students hands-on opportunities.
"It is important for me to show kids they are all important and they all have their own place in the world," Meenen says.
According to AFBFA, the STEM-focused Maker Kits encourage students to research scenarios related to food production and build their own models to solve a challenge.
When the box of supplies arrived in Meenen's classroom, so did new thoughts, possibilities and dreams. The students were interested in the contents of the box and began learning about current issues in agriculture.
Meenen sat back and watched the creating begin.
"The students have blown my expectations and ideas out of the water," she says. "I'm always impressed with their thoughts and products."
Students learned the world's population is increasing by 1.13 percent each year, which will have an impact on food availability. Through the foundation's curriculum, which is aligned to national learning standards and reviewed by industry experts, the students were asked what they could do to help with food production and what it would look like to help people grow their own food.
Now, a white PVC pipe creation stands in the middle of their classroom. Zip ties hold two heat lamps, blue adhesive peeks through beneath the pipes and a coiled-up water cord is entangled in the shelves. Meenen's eyes light up when the students explain their creative solution.
The students created a structure that could hold multiple plants in a small space. It is portable, flexible and inexpensive. The structure has shelves to place a variety of plants on and includes plant lights, different levels and a way to water what they are growing. They focused on people who have limited outdoor space and sunlight for growing their own vegetation.
But that tower is so much more than a way to grow plants to those five students. That tower has taught them they can solve problems.
Making A Difference
The task seemed overwhelming at first, the students admit. It took more than seven meetings to produce the prototype they are now proud of.
"I didn't think we would actually make a structure that could be used by others," Logan Pletcher, an 8th grader at Colwich, says.
With each additional evening spent at the school, Meenen saw a group of students who might not usually work together create something great. They can proudly explain the project they spent extra hours working on.
As Cooper Buessing, 6th grader at Colwich, tips the water bottle attached to the corner to release water to the rest of the tower, his eyes light up.

"We can do anything," he says.
Food production is something they can all relate to; after all, everyone needs food. Meenen believes kids can think outside of the box and see the world differently. And in this project, it is evident.
Meenen is confident this type of project is important because while students don't always understand world problems, this gives them an opportunity to think about others and how they can help.
"I tell them all the time that just because they're kids, it doesn't mean they can't solve world problems," Meenen says. "The more we can show them real-world problems, the better they become at problem solving."
The five students are already thinking about ways to improve their prototype and other solutions to help with the increasing population.
Thanks to Meenen and the AFBFA grant, students at Colwich Elementary know, despite their age, they can do anything they set their minds to.
---