By

Rick McNary

on

February 3, 2017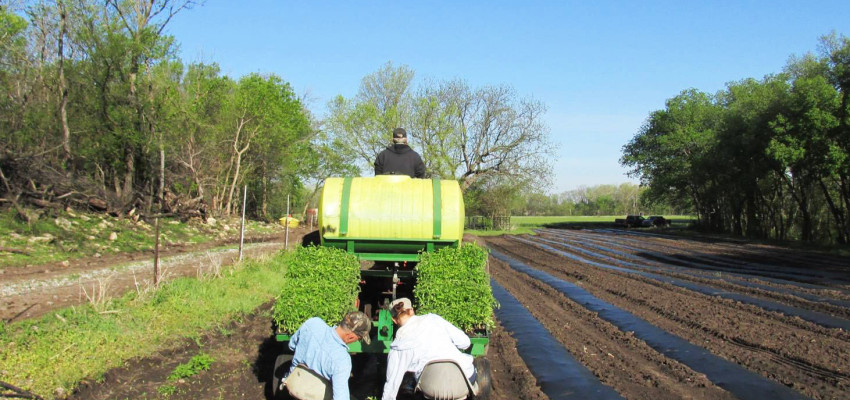 The Griggs Brothers Farm in Augusta began after two middle-school boys, Talon and Colter Griggs, came home from school with questions about capitalism.
"I explained the basics of capitalism and could tell they were confused, so I told them the best way to learn was to see it in action," Todd Griggs, their father, says. "We started growing tomatoes in our backyard to teach them how a business works. We named the farm after the boys."
The Griggs family lives in the house that once belonged to Todd's grandparents.
"When I was a boy, I spent a lot of time with my grandparents who raised tomatoes and sold them around town," Todd says. "I learned a lot but was kind of glad to get away from it when I got older."
Todd, his wife, Jennifer, Talon and Colter planted 150 tomato plants their first year in 2010. This year they'll plant 16,000 along with other vegetables. The original lesson in capitalism has grown into a full-time business for Todd.
"I enjoy watching Todd pursue what he's always wanted: own his own business," Jennifer says. "He's had a lot of obstacles but always figures out a way to overcome them.
"As a mom, it's been good to work together with our boys. We don't have to ride them about what to do or follow up to make sure they do it. They just do it."
Colter and Talon, now college-age, credit the vegetable farm for their ethic of hard work.
"Some boys spend time with their fathers rooting for sports teams," Colter says. "Ours was more satisfying because we sweat together putting intentional effort into something that we could see the fruit of. The best part is watching things grow."
"I enjoy spending quality time with my family and watching things grow," Talon says. "Many families sit around when they get together, but we have the privilege of seeing how hard work and dedication can pay off. Watching it inspire a passion within our dad has been very rewarding."
Although the first two years of production were difficult due to lack of rain, the farm prospered more than they anticipated.
"A friend urged me to build a high tunnel," Todd says. "I built the first one in 2013 and our production tripled. Plants yielding six pounds per year growing outside will average 18 pounds in a high tunnel. The first high tunnel made us enough money to buy three more."  
High tunnels, also known as hoop houses, are different than a greenhouse. A greenhouse is heated and allows the grower to maintain temperatures for optimal growth. However, a high tunnel is not heated, yet serves to protect the plants from harsh elements. The temperature is somewhat regulated by controlling ventilation. 
"High tunnels allow me to start the plants earlier so we can get to market earlier," says Todd. "The temperature can be quite cold when we first plant so we tuck the plants in at night with an extra blanket to keep them warm." 
In addition to the lot in the city, Todd acquired six acres east of Augusta.
"We plant there with a tractor and special attachments that form a raised bed and unroll drip irrigation tape and a weed barrier all in one swoop. 
"Then we have another attachment that straddles the row, pokes a hole in the plastic, drips water in, then one person on either side sticks the plant in. We've been able to plant up to 4,500 plants an hour with that. 
"I found used greenhouses that we will convert into high tunnels," Todd says. "Since the land is 17 miles from home, I control the ventilation with an app on my phone."
Todd credits the success of the business to research, planning, record keeping and the helpful resources made available through Kansas State University extension agents and the Kansas Department of Agriculture.
"The Kansas Crop Enterprise Budgets have been extremely helpful. If you don't keep records, don't get in the business.
"When we started, we put together a plan and mission statement. I decided early on I wanted to be a famer, not a truck driver. I don't deliver to restaurants or other venues because then all I would do is drive."
The market for the produce is primarily through farmer's markets in El Dorado, Winfield, Arkansas City, Augusta, Derby and Wichita. He also has wholesale customers on the honor system who go directly to the farm and harvest produce for resale.
"We set up a video at our farmer's markets that shows our work in action. We educate people about our methods and conservation practices. Most customers don't care that we grow with conventional methods, but they do care that it is locally grown." 
A recent commercial by a ketchup manufacturer led viewers to believe some tomatoes are GMOs.
"There's no such thing as a GMO tomato," Todd says. "Some groups like to misrepresent what farmers do to cause fear in consumers. People who make those commercials are usually educated above their intelligence."
Specialty crop producers like Todd are challenged with finding markets for their produce. The United States Department of Agriculture recently released $27 million in grants to support the local food sector.
"As we continue to expand production, we also have to expand our markets. That's our next big step. We don't have a huge population base in this part of Kansas so our planning now requires us to think differently about the end market."
One passion the entire family shares is the love of watching tomatoes and vegetables grow.
"I'm a simple guy," Todd says. "I just like to watch things grow. There are few things as beautiful as bright red tomatoes clustered on a lush green plant."
Most farms are passed from parents to their children. However, the Griggs Brothers Farm is unusual because it has been passed from children to their parents.
They, like a multitude of other farm families, find their roots grow best in the deep, fertile soil that feeds our world.
---