By

Chef Alli

on

September 20, 2016
Buying your first chefs knife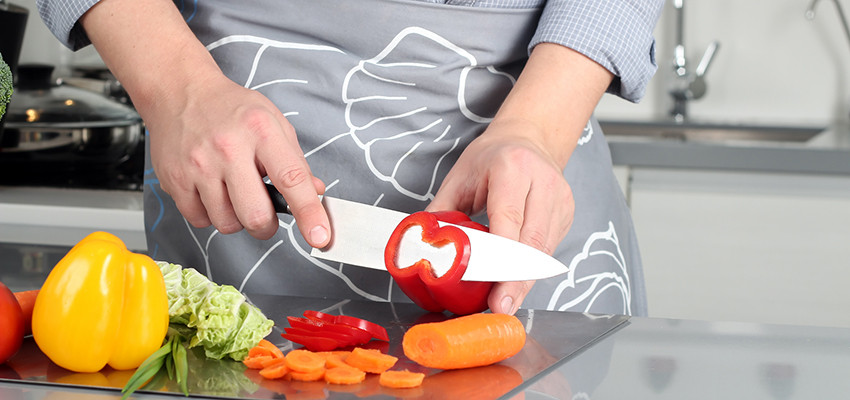 My chefs knife is a tool I use daily. It's the one I reach for every single time. Here are my three tips you should use when purchashing your own. 
1) Shop in a kitchen store that allows you to be hands-on when knife shopping.   
A good chefs knife is going to require a significant outlay of funds, so if you can't grip the handle to see if it's a good, comfortable fit, don't make the purchase.  A quality knife should feel familiar right away, like an extension of your hand. Any kitchen store worth its salt will want to be sure you hold several knives in your hand before making a decision, and many kitchen stores keep vegetables on hand to provide an actual chopping experience for customers. The only way you can know for certain that it's a good fit is to feel it in your hand as you chop.   
2) Perform the balancing act when knife shopping.
Once you have the knife gripped in your hand, it should feel comfortable and balanced so when you are chopping, the knife doesn't put added strain on your arm.  If it feels cumbersome, you'll tend to avoid wanting to pick it up in the kitchen--just the opposite of what a good chefs knife is created for. Remember too, looks can be deceiving.  Some knives look big and bulky, but in reality, once it's in the grip of your hand, all that can change. Try as many as you can. 
3) Don't hesitate to weigh in when knife shopping--it's going to be your knife!   
As you grip the handle of the chefs knife, ask yourself how it feels. If it feels too light, the knife may not be able to do the heavy kitchen labor you need it to do. If it feels too heavy, the knife could become tiring when using it--a big no no. Length matters too, and ideally, it's best to purchase the longest blade you feel comfortable chopping with. An 8 inch chefs knife is standard length, but if you are smaller in stature, ask to chop with a six inch knife to see which is the best fit for you.  
The deciding factor when purchasing your first chefs knife should be based solely on what feels good in your hands, so take all the time you need when shopping. Finding the essential work horse that's a perfect fit for kitchen prep changes everything! 
---