By

Chef Alli

on

August 2, 2016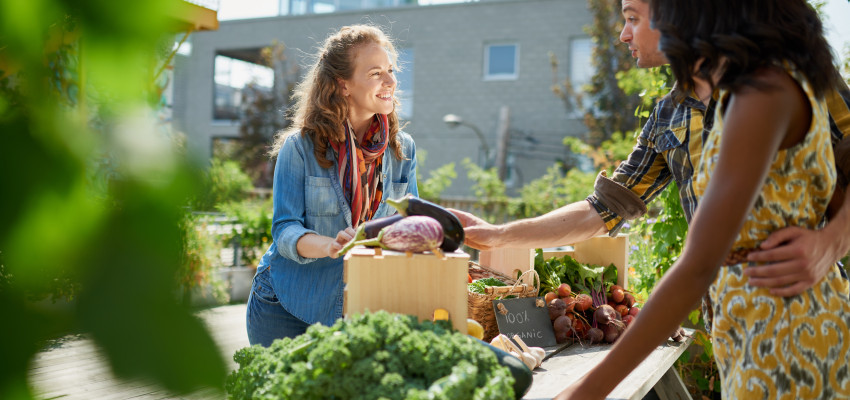 If I had it my way, I'd spend each and every Saturday morning at a Kansas farmers market. The festive atmosphere, local artisans selling their wares, plus the wide variety of meats, fruits and vegetables grown by locals makes it an enjoyable experience I look forward to.
To make your trip to the farmers market an enjoyable experience (and maybe even a tradition), here are my top five tips: 
1. Be an early bird or dog-day lazy
Most markets here in Kansas are open by 7 a.m. (if not even 6 a.m.).  Early is where you'll uncover the best selection of most everything, but not the best deals.  So, if you're a haggler and enjoy dickering on price, near closing time is your best arrival window. Because vendors are packing up to return home at this time, here is where you might score the big bargains of the day since vendors may appreciate having less to load up for take-home.  Many would rather play "lets make a deal" than to pack it home and wind up throwing it out.  
2. Cash is king
We all know what this means and the farmers market is no exception. Load up on small bills, especially if you like to arrive before everyone else gets there. Most vendors will have change ready, but they appreciate it if you have three $1 bills to pay them for the $3 bag of green beans instead of having to break yourr $20 bill.   
3. Leave your purse at home…..Bring on the basket! 
If you "load up" at the farmers market like I often do, there's no sense in bringing a big purse to carry. Toss your wallet into your basket and away you go, ready to gather up all your goodies. If you have a lot of things to purchase, toss in some reusable bags too since they are easy to load and carry over your shoulder.  
4. Be prepared to get down and dirty  
The produce available from your local farmer is likely going to have been freshly picked within the last day or so.  Expect some dirt, sand or even little bugs to make their way home to your kitchen counter. I usually don't wash my berries until just before we eat them since they often spoil too quickly if washed too far in advance.
As for vegetables, I do rinse and dry them thoroughly before storing it in the fridge.  Even fruits and vegetables that have to be peeled need to be washed since bacteria that may be on the peeling can be transferred to the fruit when it's cut.  
5. Go with the flow……be flexible and remember your water bottle.  
Since produce is seasonal, it's a good idea to be flexible in your purchases. This is also where a good relationship with your favorite vendors and farmers can come in really handy since it will give you an opportunity to learn about what they grow and how they do it. Don't be afraid to ask questions. Trust me, farmers love to chat. Since you'll want to plan your recipes and cooking around what's in season, the vendors will likely have recipes and tips they will be glad to share with you.  
Learn more about Kansas farmers markets here!
---