Kids Craft: Farmers Market
Let your kids grow and sell their farmers market goodies with this fun felt activity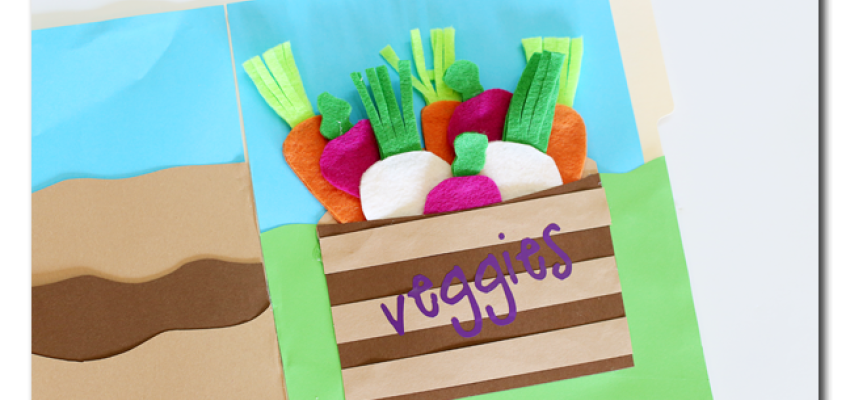 It's the time of the year for Farmer's Markets - all those delicious yummy farm fresh goodies. Today I have a fun craft where kiddos can pretend to pick their own veggies and gather them up to take to the Farmer's Market. It's a Felt Veggie Garden File Folder Activity.
It's a fun craft  they can help you assemble before they enjoy hours of play with it!
You'll need: 
variety of colors of felt (I used green, orange, white, and fuchsia to make carrots, onions, and radishes)
scissors and glue
file folder and paper (I used green, blue and brown)
First cut the felt into vegetable shapes as shown below. You can outline shapes and let the kiddos cut it out, depending on their age. You'll need two layers for each vegetable to give it stability.
Glue the two layers of leaves/stems together. Once dry, cut slits. Open up the layers of the vegetable. Glue stem inside at the top.
Then put the top layer of the vegetable on top and glue into place, sealing in the stem.
Repeat for all the vegetables.
To assemble the file folder, on the left glue down rows of brown paper. Glue the sides and bottom, but not the top - this way the vegetables will be able to slide in.
For the basket/crate, assemble it and then glue it to the file folder at the sides and bottom, again, leaving the top open for veggies to slide in.
Now it's ready for play! Veggies can be "growing" on the left side in the garden...
Or picked and gathered for market on the right side...
And then when it's time to put it away, the folder just closes right up!
Enjoy putting together your Felt Veggie Garden!
---