A Kansas City tradition that's big on flavor and family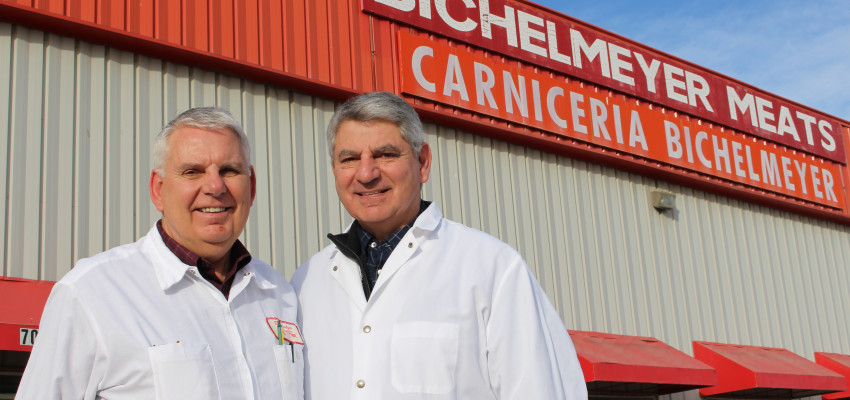 When it comes to food, the truth is, nothing compares to the smell, sound and taste of a steak sizzling over an open fire.
Kansas City strip. T-bone. Rib-eye. Porterhouse.
Thick. Juicy. Delicious.
Pork chops the size of your fist rank right up there as well. And don't forget grilled leg of lamb.
If you're lucky enough to live in Kansas City and shop at Bichelmeyer Meats, you're in for a shopping experience like few other places offer today. Walk into the south doors of the steel building located at 704 Cheyenne, just north of the Kansas River and west of the American Royal, and you'll find nearly every cut of meat.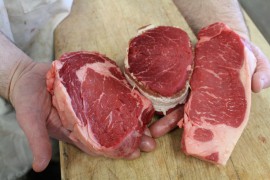 Customers can buy the best homemade seasoned sausages, lunchmeat, brats, all-meat bologna and old-fashioned headcheese, tongue and heart. Bichelmeyer's also carries an assortment of smoked products including pork, brisket, deli turkey and ham.
For those who want to stock up on meat, sides and quarters of beef are also available. Customers can pick and choose what will fit in their refrigerators or freezers.
"We produce most of our beef from conception to consumption," says Joe Bichelmeyer, who owns the family ranch and meat company with brother, Jim, and wife, Marty.
full-on flavor
Grain-fed, Angus beef remains the most popular item sold at Bichelmeyer's. Most cattle processed at the fourth-generation family business originate on the family ranch, which is located near Williamsburg, in Franklin County, about 60 miles southwest of Kansas City.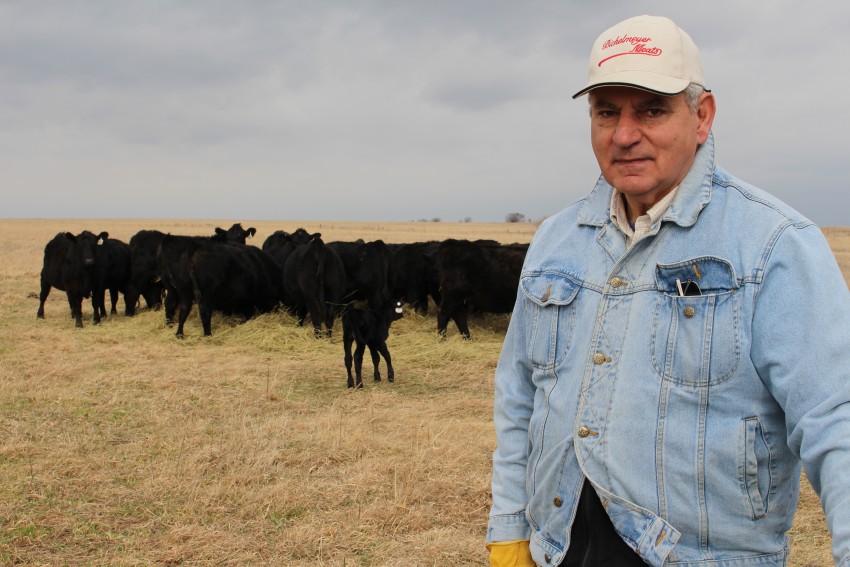 Bichelmeyer Land & Cattle Company runs 550 head of cows. Calves are born in March and April, weaned in late October, then finished on grain and silage at the Nunemaker-Ross feed yards near Lawrence.
Adhering to beef quality assurance (BQA) standards, the cattle raised at Bichelmeyer's receive proper care that results in optimum beef quality, which is then passed on to their customers. This enhances the uniformity of the product as well.
Consumers want to buy the same great taste in their Kansas City strips time after time.
"What separates us from grocery stores and other meat retailers is the control we exercise throughout the process," Joe says. "We raise the cattle with proper care, process the beef and dry-age it, all under our supervision."
The dry-aging process varies from 14 days to 28 days. The beef is hung on a rack at near-freezing temperatures, allowing moisture to evaporate from the muscle. The beef 's natural enzymes break down the tissue in the muscle, which leads to a more tender product.
"This gives the meat from each animal the chance to age as nature intended, becoming as flavorful as possible," Joe says.
service with a smile
Every week, the Kansas City beef market processes between 12–15 beef cattle and approximately 15–18 hogs. Bichelmeyer Meats also processes cattle, hogs and wild game on a custom basis.
Seventy-two-year-old Harold Colbert oversees this operation. Having processed and cut meat for 53 years and counting, Colbert is no stranger to the processing industry.
While Colbert owned his own processing plants throughout the years, he's spent the last 18 years working for Joe and Jim. He also grew up with the Bichelmeyer brothers and worked for their father, John, more than 40 years ago.
All of the nearly 15 people who work at the meat company are longtime employees. They enjoy working at Bichelmeyer Meats and it shows.
A first-time shopper came to the store recently and commented that he'd never been in a place where everyone was so happy.
"The workers are happy. The customers are happy. This is my new favorite place."
Contented workers produce great service, and best of all, happy and satisfied customers.
"We treat all of our employees like we want to be treated," Joe says. "We wouldn't ask them to do anything we're not ready to do."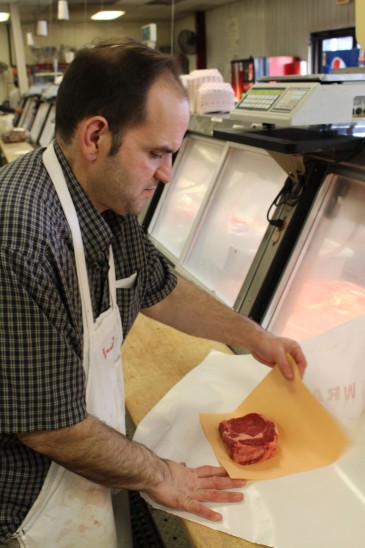 During the flurry of day-to-day activity that is Bichelmeyer Meats, management works side by side with employees. It's not unusual to see Jim at the cash register and Joe bagging meat or helping an employee deliver a side of beef to a waiting pickup.
On this particular day, Joe shakes the hands of a young couple after he's helped load their beef into coolers. He thanks them and asks them to say hello to their mom and dad for him.
"It doesn't cost any more to be nice in life," Joe says. 
Just the other day, a young boy came in with his grandpa. After they'd finished shopping and were about to head out the door, the boy looked up at Joe and asked:
"You like what you do, don't you?"

"Does it show?" Joe asked."Yes," replied the boy.

"There's your answer," Joe replied.
keeping tradition alive
Clientele at Bichelmeyer Meats are as diverse as the products sold there. John Bichelmeyer, who founded the business, once labeled it "an all-nations' meat market."
"Our customers range from the common working man, like most of us, to doctors and lawyers," Jim says.
Both Joe and Jim remember their dad telling them to treat everyone the same way no matter what walk of life they come from and to value each and every customer.
Spend a few minutes in the meat market and it becomes readily apparent every employee listens to what each and every customer says. When a client walks through the door, someone says hello and asks, "How can I help?"
"We listen," Jim says. "We pay attention to what they say and we try to offer the product as they want to buy it." That's what separates Bichelmeyer Meats from many other meat retailers.
"Anyone can sell something once," Joe says. "The good business man can continue to sell and keep them coming back for more."
Russell Hill purchased his first meat from Bichelmeyer Meats more than 50 years ago. Hill says he grew up with Joe and Jim.
"I knew 'em when we were all young," the 73-year-old Hill recalls.
"I knew their dad, too. He was hard to beat."
Hill remembers the first time he came to the meat market, John Bichelmeyer shook his hand and asked, "What's your name?"
"Every time after that he called me 'Mr. Hill' and shook my hand," he says. "I was somebody to him. I receive the same treatment from Joe, Jim and their children today."
Hill especially likes the smoked ham, sliced just the way he likes it. He also enjoys pork chops, steaks, ground chuck and occasionally ox tail for soup.
"The meat is so good," Hill says. "People visit while they wait for their meat. The kindness shown to each and every person at Bichelmeyer's is like no other."
John Yotsook ends up in the parking lot eating homemade tacos cooked up nearly every Saturday at Bichelmeyer's. There he mingles with other shoppers and eats what he considers the best tacos and tamales in town. "Quality and service," Yotsook says. "When you come here, you're treated like part of the family. It's a rare experience in today's world."
Seventy years after John Bichelmeyer started his meat business, his dream lives on through his family. And like the large sign bearing their name above the door, the Bichelmeyers are proud of their heritage and they strive to provide their customers with the best meat available.
"That's our family name on this business," Joe says. "We stand behind this name and we want to do our family proud."
Did you like this story? You might like this one too...On Saturdays, there's a special treat to be found at Bichelmeyer Meats:
---