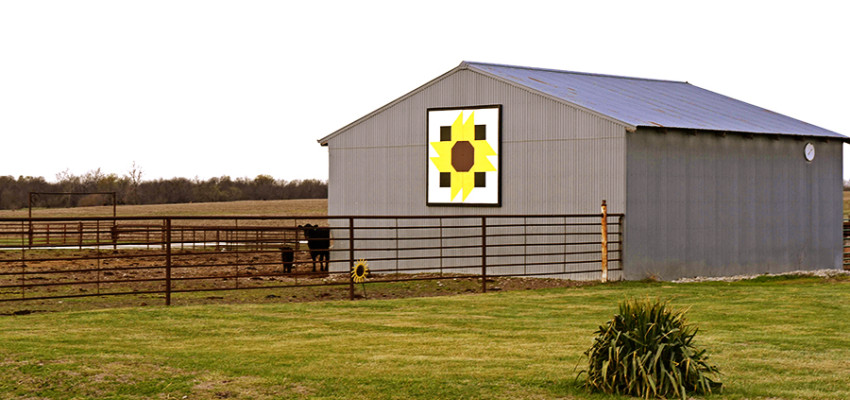 Chris Campbell is a professional quilt-maker because she loves a good story. In 2010, she combined quilt making and storytelling to start the Franklin County Quilt Block Tour, the first of its kind in Kansas.
"I went to the Sisters Quilt Show in Oregon in 2010 and toured the Tillamook County Barn Quilt Trail," Campbell said. "I told my husband, 'someone in Kansas needs to do that.' Well, that someone was me."
 "Barn quilts started as a joke," she said. "Donna Sue Groves of Adams County, Ohio, teased her Mom, an avid quilter, about their dilapidated old barn. 'Well, I guess we could throw one of your quilts over it.'"
The idea percolated in Groves and soon she engaged others to paint barn quilts to attract tourists.
"After I returned from Oregon, I suggested the idea to the Franklin County Convention and Visitor's Bureau (CVB)," Campbell said. "We formed a committee and wrote guidelines for the first quilt trail in Kansas. In order to qualify for our trail, they have to be 8'x8' in rural areas and 4'x4' for the city and mounted on an ag-related structure."
Along with her husband Alan, President of the Franklin County Farm Bureau, they proposed the idea to their members. The original goal was 12 barn quilts; five years later, there are 41.
Campbell volunteers countless hours, along with other volunteers, to paint barn quilts in the basement of the CVB. 
"A quilt tells a story and everyone has a story of a quilt," Chris said. "There are no two barn quilts alike in Franklin County because no two people have the same story."
Suzi Parron, author of Barn Quilts and the American Quilt Trail, will be in Ottawa, Kan., Sept. 9 to sign her newest book. Alameda Edward's barn quilt will grace the back cover.
In other parts of the state, Kansas Farm Bureau (KFB) members actively promote barn quilts. Sheryl MacNair, County Coordinator for Ford County Farm Bureau, assembled eight women of KFB's District Eight Women's Committee for a workshop. 
"I had a conversation at the Farm Bureau annual meeting about barn quilts," Sheryl said. "I'm not a quilter, but I love the decorative aspect. I connected with Walnut Creek K-State Extension agent, Erin Petersilie, who taught our first class of twelve women." 
MacNair recommends a barn quilt workshop to help people build relationships, form strong networks, develop leaders and grow the organization. Each of the women took the idea back to their counties, many of whom will exhibit at their county fairs and the Kansas State Fair.
"People are busy and don't want another boring meeting," MacNair said. "At these workshops, you visit a lot, yet create something beautiful."
Chautauqua County Farm Bureau coordinator, Teresa Jackson, hosted their first class in the fall of 2015.
"Cowley County is next door to us and the two KFB members from there, Jo Lynne Brothers and Denise Noonan, are involved in the Cowley County Quilt Trail," Jackson said. "They encouraged us to start and we had 14 people in our back room for four hours talking, laughing and painting. It was so popular, we're having another one on April 10."  
"We contacted the art teacher of our local high school, Central of Burden, and their class painted our quilt," Brothers said. "Now, several high schools paint barn quilts for people." 
Jo Lynn taught a class for Elk County Farm Bureau after a member, Barbara Clubine, approached her County Coordinator, Lynn Thompson, to see if she would support the idea. 
"Women from every town in Elk County attended," Clubine said. "Many of the quilts are now listed on the Flint Hills Quilt Trail." 
Detour off the four-lane for the largest grassroots art movement in America. Don't be surprised if a farmer waves you into his driveway to show off the barn quilt he reluctantly hung to please his wife. Take time and listen to their stories; they are the people who feed our world. 
Where can you find more barn quilts? Go here. 
Want to make your own barn quilts? Get step-by-step instructions from One Kreiger Chick here. 
Barn quilt coloring pages
Want some ideas for your own barn quilt? Go here: Kansas Barn Quilts
---