By

Rick McNary

on

February 29, 2016
Isaac Brunkow loved his first Southdown sheep--Oompa and Loompa--so much he started a business raising sheep. As a high school freshman, he applied for a starter flock program for young people  grant from the Kansas Sheep Association (KSA) to purchase eight ewes. Now in his senior year at Rock Creek High School, his flock has increased to 33 ewes, which recently birthed 28 lambs; more are yet to come.
 "I chose the Southdown breed because they are smaller, more docile and have a lower flight-zone," he said. "That means you can get closer to them before they run away, which is important when a bunch of fourth graders want to pet them."
Isaac draws from the wisdom of sheep specialists at Kansas State University (KSU), KSA and other local sheep breeders. His numerous awards for showing sheep, including reserve grand champion at the Kansas Junior Livestock Show, indicate his knowledge of the breed and commitment to establishing a quality flock. He culls the flock each year of ewes that don't meet his standard of excellence to ensure solid breeding stock for the future.
"Sheep require a lot more attention than cattle," he said. "We breed them in August/September so they will lamb in January/February. The best temperature for lambing is around 30 degrees, but it's now the third week of February and it is supposed to warm up to 70 degrees. I'm worried because lambs don't like that sudden shift and don't do well in warm weather. Their immune systems weaken and I have to be a lot more vigilant."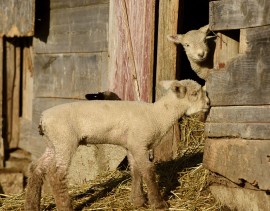 The ewes give birth in pens called
lambing jugs
. This provides a clean and climate controlled environment to ensure healthy lambing. After a few days, those ewes with their lambs are moved to a bigger barn. Isaac secures all of his sheep in barns at night.
"There is a growing population of coyotes because no one hunts them," he said. "I also keep a radio blasting so the coyotes hear the sound of human voices. The problem is, I like country music and the only station we get clear out here is hard rock. That's okay; the sheep seem to like it."
Isaac raises sheep both as show animals and for meat. People interested in purchasing show-quality sheep hand select them on his farm.
"Showing sheep is easier and cheaper than showing cattle," he said. "I don't need a halter or show stick and they respond well to pressure from my hands and legs. I only give names to the sheep I'm going to show, not ones I take to market. I have one named Twinkletoes that jumps over the fence, but I call her and she jumps right back over. Sheep are crazy."
The rising interest in lamb meat as a lean protein source as well as for ethnic cuisine provides additional revenue for Isaac's business. He sells sheep at a local auction barn or at the farm. He offers custom cuts through a local meat locker and prefers a marinated lamb chop to a T-bone.
 "The Southdown breed is ready for market quickly," he said. "They reach 100 pounds within three to four months after weaning. While they're known for the quality of meat, they're not known for their wool. I only shear them so they stay cool in the summer. Last year, I barely made $15 on their wool."
The sheep population in the U.S. during the 1940s was 55 million yet the current population is only one tenth of that. The USDA's 2014 farm bill creates new opportunities for the sheep industry to increase production and reduce reliance on imports.
Isaac learned to create financial statements for his business using spreadsheets during his freshman year. In addition to submitting reports to the KSA regarding his starter flock, he also uses his sheep business as an FFA Supervised Agriculture Experience (SAE). Like most farmers who diversify, he also generates revenue from hogs and cattle.
"My two biggest challenges are keeping records straight and knowing what to do with the sheep when something goes wrong," he said. "Lambs are fragile; a lot can go wrong in a hurry."
Isaac enjoys educating others about the business of raising sheep. He participates in KFB's Day on the Farm in Onaga as well as the FFA Barnyard Day at his high school. He frequently invites people to the farm to demonstrate how he cares for the sheep. Many of those same people end up helping him with chores; he's clever that way.
Isaac's family began farming in this region when they took advantage of the Homestead Act of 1864. He keeps his rams on his grandfather's farm, a KFB Century Farm, south of Westmoreland. Isaac's father, Glenn Brunkow, is a KFB board member and, as a family, they were recognized as a KFB Family of the Year in 2012.
"When Dad's gone to Farm Bureau meetings," Isaac said, "Grandpa and I team up to take care of the farm. It's nice to work with Grandpa because if Dad gets on me about something, Grandpa tells me he had the same problem with my Dad."
Isaac has years of leadership experience already as President of the Rock Creek FFA, the Wheaton 4-H Club, and captain of sports and academic teams. He intends to run for FFA State President and will join KFB's Collegiate Program at Kansas State.
Isaac plans to attend KSU in the fall to become a veterinarian. He attributes his inspiration to a local vet, Dr. Jim Hildebrand.
"Dr. Hildebrand is the kind of vet I want to be," he said. "I like this style and the way he treats the animals. I know it's going to be hard work, but I'm used to working hard."
Many American farms face uncertain transitions from one generation to the next. However, on the Brunkow Farm, the bleating of 33 ewes and 28 lambs listening to hard rock music indicates the relentless passion of a young man carrying on the legacy of his family farm.
---