No time to quilt? Make these cute quilt block coasters instead!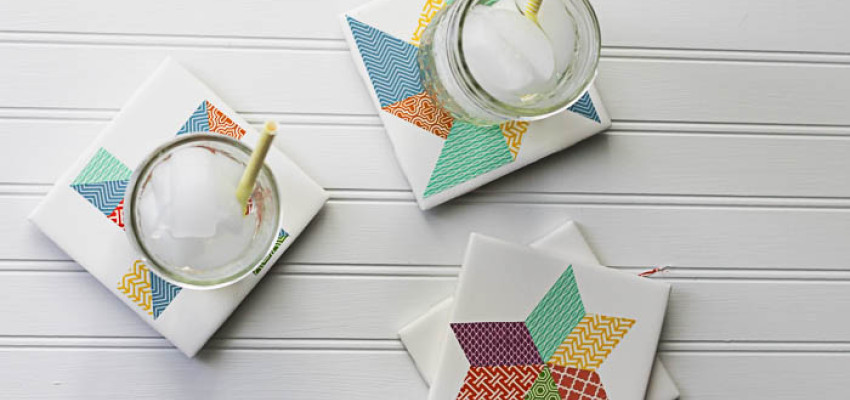 Hello friends! It's Ariean from OneKriegerChick  again with a fun and colorful home decor idea based on one of my favorite decorating staples--old quilts.  I love old quilts and have acquired quite the collection.  I imagine I'm not alone.
Quilts hold so much meaning, tell stories, bring back memories, are made with so much love, and are simply beautiful. Don't have time to make your own quilt?  I bet you'll have time to whip up a few of these coasters inspired by quilt blocks.
Let's get started. You only need a few supplies:
Solid color tiles 
Adhesive patterned washi sheets or patterned scrapbook paper
Matte finish Mod Podge
Foam brush
Scissors
Felt or Cork adhesive pads (not pictured)
​
Use a favorite quilt as inspiration or come up with your own design. I looked around my house at the different patterns on my quilts to come up with these designs.  There are many free quilt block patterns online too.  If you want to use Kansas quilt blocks as inspiration, I discovered that the Kansas Flint Hills has a trail of Barn Quilt Blocks found HERE. I loved looking through all of them and bet you will too!
These washi sheets are so easy to use and can be found at crafts stores in many different fun patterns.  They are basically large pieces of patterned tape.  You can cut them to any size, then just peel the backing off and apply to the tile surface.
Even if each piece is cut the same, one may not fit perfectly. No big deal! Just trim it a bit.
After applying the pattern, coat each tile with two coats of matte finish Mod Podge. I spread the Mod Podge horizontally, then allowed to dry before applying a second coat vertically.  This gives the illusion of canvas, keeps the pattern from peeling up and prevents liquid from seeping through.  The tile on the left has one coat, while the tile on the right has two.
Once the Mod Podge is dry, add felt or cork pads to the bottom of the coasters. These come self adhesive at most hardware stores. I used some I happened to have on hand, but they come in many different sizes and colors.
A finished set--bright and colorful--ready for my coffee table.
Make a set for yourself, for a friend as a gift...
Have fun making your own patterns, I'd love to see what designs you come up with! Hope you have a fabulous month!
---