By

Leah Fliter

on

February 16, 2016
Use herbs to make your dishes pop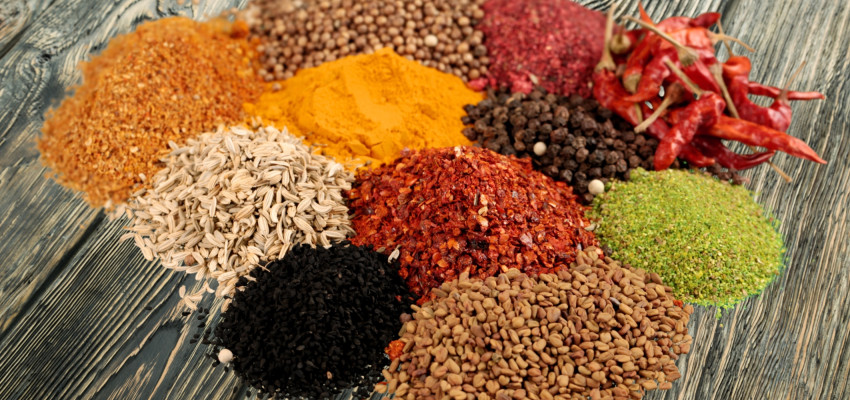 COOKING WITH DRIED HERBS
Most herbal flavors and aromas are released by heat. Although many cooks prefer fresh herbs, you can use dried versions. When possible, grind whole spices in a grinder or use a stone mortar and pestle just prior to using for enhanced flavor. Toasting or dryroasting whole spices in a dry skillet over medium heat before grinding will bring out even more flavor.
COOKING WITH FRESH HERBS
In cold dishes, use fresh herbs at room temperature. When preparing a dish that requires a lengthy cooking period, you can use a small, tied bunch of fresh herb sprigs. This bundle is generally known as a "bouquet garni" and customarily contains parsley, bay leaf and thyme.
Herbal combinations can also be minced and added to a meal immediately upon completion of cooking and as a garnish before serving. This French practice is referred to as "fines herbes." It contains chopped fresh chervil, parsley, tarragon and chives. This blend is good on mild flavored cuisine like salads, scrambled eggs and dishes containing poultry and fish.
There are no hard-and-fast rules when cooking with fresh herbs. Start by experimenting with small amounts to see what you like. Here are a few ideas that will help you get started:
Avoid mixing two very strong herbs together. Instead, mix one strong herb with one or more milder herbs to complement both the stronger herb and the food.
Usually, a weaker-flavored food (like eggs) requires fewer herbs to get a nice balance of flavor.
Dried herbs are more concentrated than fresh, and powdered herbs are more concentrated than dried. Each herb is
slightly different, but a starting formula is: ¼ teaspoon powdered = ¾ to 1 teaspoon dried = 2 to 4 teaspoons fresh.
If chopping fresh herbs, chop the leaves very fine to release more of the oils and flavor.
The aromatic oils in herbs can overwhelm a recipe, so use an herb sparingly until you are familiar with it.
Extended cooking times reduce the flavoring of herbs, so add fresh herbs to soups or stews about 45 minutes before the end of the cooking time. For refrigerated foods such as dips, cheeses, vegetables and dressings, add fresh herbs the night before or several hours before using. Fresh basil is an exception. If you add it to salad dressing overnight or longer, it becomes bitter.
For salsa, hot sauces and picante, add finely chopped fresh or dried herbs directly to the mixture.
Make herbal butters and cream cheeses by adding one tablespoon of finely chopped fresh herbs to a ½ cup of margarine, butter, cottage cheese, low fat yogurt or cream cheese. Let sit for at least an hour to blend the flavor; then taste test on a plain cracker or a Melba Round. Taste testing will help you decide what foods will best complement your spread.
Flavor vinegar for use in cooking and in vinaigrettes. Bruise one cup of leaves for every two cups of white wine or delicate vinegar. Allow to steep for two weeks.
Provided by Karen Hanson, Ridgeview Olathe Hy-Vee dietitian.
Find out what the 10 easiest-to-use herbs are here. 
---