Top-quality sod, delivered with a family touch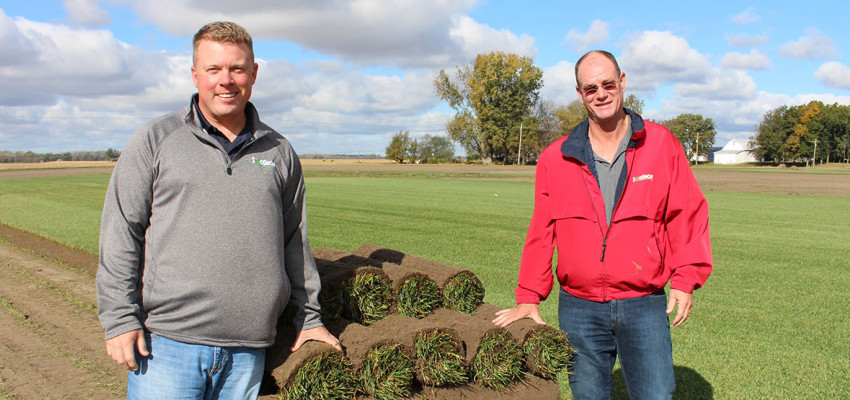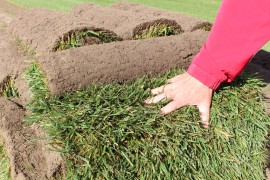 Every spring, homeowners across Kansas dream of a lush, thick, green lawn. That's where the Sod Shop of Lawrence stands ready and able to provide locally produced, quality turf.
Ted and Wade Wilbur, owners of the Sod Shop, grow their own sod in some of the most fertile river-bottom ground near Lawrence. The Wilburs work closely with premium seed suppliers to grow the most drought resistant sod available today.
Their most popular variety is a fescue blend of three different fineblade grasses that include five to seven percent bluegrass. This grass is very hardy in the local climate and has improved disease and insect resistance,
making it a much better grass than some of the older varieties like the coarse-textured Kentucky 31.
"We provide a tall fescue [grass] ideal for high-traffic home lawns and shady areas," Wade says. "It has better drought tolerance than bluegrass, but does require additional watering in extreme conditions."
Many home owners consider turftype fescues for their lawns. Others select blends which might include Kentucky bluegrass, fine fescues and some type of perennial rye grass. Such blends are well suited for cool season and transitional areas of the country.
The Sod Shop delivers its grass turf to landscapers and residential homes primarily in the eastern half of Kansas. Commercial businesses and sports complex projects also figure into their turf-distribution enterprise.
The family business wholesales sod to landscaping businesses in 37 states. Twenty employees keep the Sod Shop
running in Lawrence and another 15 employees work in Wichita where the turf-producing business took root.
PLANTING THE SEED
The Wilbur family comes from a long line of farmers west of Valley Center in Sedgwick County. Ted and his older brother, Tony, grew up farming with their dad and grandfather. They represent the fifth generation to be involved in agriculture.
"We've always been a family owned and operated business," Ted says. "Our customers are treated just like family."
During the mid '80s, Ted started a mowing operation for residential and commercial properties in the Wichita
area. As the business expanded, fullservice lawn care, sprinkler systems and residential landscaping became part of the growing family enterprise.
Ted brought his brother Tony — who specialized in commercial landscaping — in as a partner in 1992. Four years later they opened the Sod Shop. In 2000, the company expanded again with the addition of a Kansas City location that specializes in sod installation. That's when Tony's son, Wade, joined the team and later became the primary manager.
The Sod Shop expanded into the Lawrence market by acquiring the sod operation of Pine Family Farms in September 2011. The Pines still operate a family landscape center in the same structure as the Sod Shop where they sell sod, rock,
mulch, topsoil and other lawn supplies.
GROWN WITH PRIDE
Today, the Sod Shop grows premium quality turf on 500 acres in Douglas and Jefferson counties. This additional land has expanded the Wilbur family base and allowed them to become one of the main producers of bluegrass sod in the Kansas City metro area. Approximately 80 percent of their wholesale sod business goes east to Johnson and surrounding counties.
"Once again, the ability to produce our own sod on irrigated river-bottom ground near the Kansas City market
drove this decision," Wade says.
As water becomes more valuable and people use less of this commodity on their lawns, commercial properties and sports complexes, the Wilburs believe more warm season grasses will be planted. Such varieties keep their rich luster longer in
the fall, and green up earlier in the spring — while using less water.Some of these grasses include Bermuda, Latitude 36, Zoysia and buffalo grass in western Kansas.
The Wilburs continue to work closely with their gold-tag seed dealers and the Turfgrass Water Conservation Alliance to grow the most drought resistant sod available.
"Our sod is as pure as it gets," Wade says. "You can't find a better seed out of Oregon or Washington."
It takes between 12 to 18 months to raise a crop of sod for harvest, according to the Wilburs. They dispense sod in two different sizes. The smaller packets of sod are sold in rolls 24 inches wide by four and one-half feet long. Larger rolls that look similar to big round hay bales — only brown in color — measure 42 inches wide by 100 feet in length. 
Careful attention is given to the turf during installation, including grading the soil, adding rich, high-quality topsoil if necessary and removing unwanted grass or soil. Once the new sod is securely in place, a final grading and watering
finishes the landscaping project.
"Like we always say, 'We do our darndest to give you a ready-to-go, top-quality sod,'" Ted says. "And best of all — it's produced right here where you live."
---