Share the love this Valentine's Day with these cute critters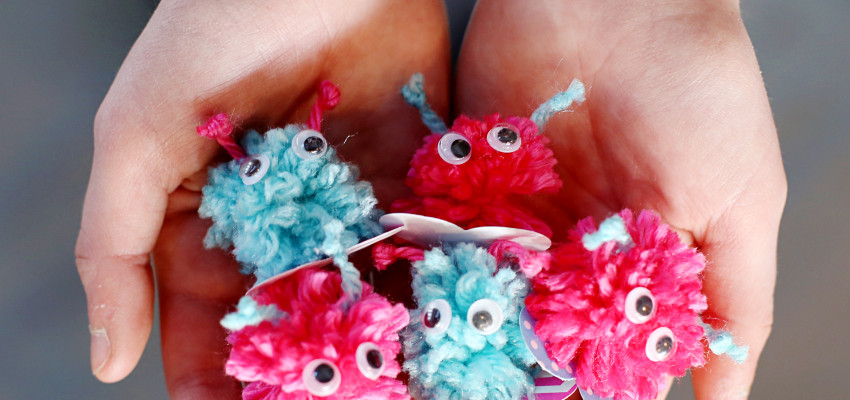 I love crafts that you can make with things you have on hand --these Love Bugs are no exception! Super cute and fun, your kiddos will love to make millions and pass them out to everyone.
You'll need:
yarn (various colors)
fun paper (plain paper would work too!)
googly eyes
glue and scissors
​
First you need to cut "feet" for your bug--the paper platform that helps them stand. The feet are a heart shape (hence the "love bug" name!) and you can use a heart punch, or simply draw hearts on your paper and cut them out.
Next up, the body of the bug, which is a yarn pom pom. You can make it right on your hand - my kids have been making TONS! First, wrap the yarn around your first two fingers about 20 times - try to leave your fingers slightly apart.
Then cut a separate piece of yarn about four inches long - slide it around the wrapped yarn by pushing it through the crack in your two fingers, as shown below:
Tie those two ends into a knot, tightly:
Slide your fingers out. Cut the middle of all the loops that were left from where your fingers used to be, as shown below:
Then trim up the pom pom to make it more circular in shape.
Now continuing on with Love Bug construction, glue the pom pom onto the feet.
Then glue on eyes.
For the antenna (optional), tie a knot in a piece of yarn, then trim it with the knot on one end and about one inch of yarn on the other end. Glue into place burrowed down in the pom pom.
That's it! Make a whole Love Bug gang and enjoy!!
Looking for another fun valentine project? Check out this easy and quick kid's craft featuring paper hearts.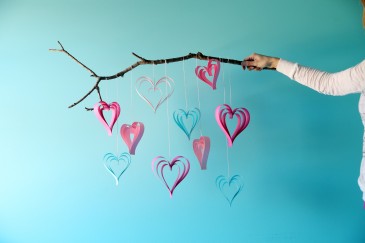 ---