By

Rick McNary

on

January 22, 2016
Young vegetable grower creates thriving farm in Lawrence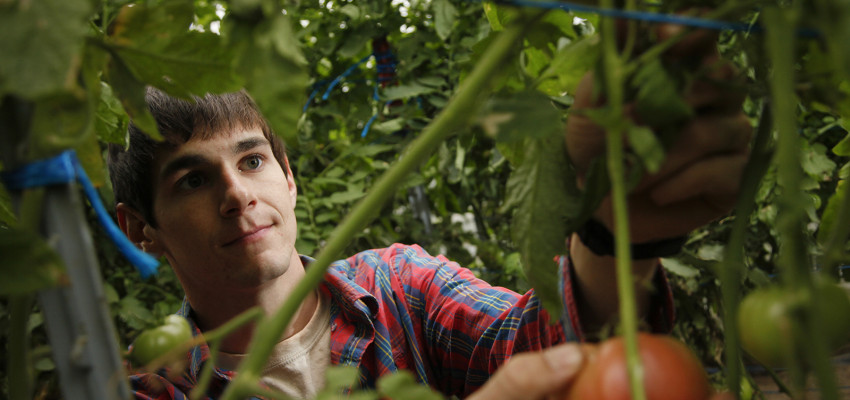 Scott Thellman caught the ag bug at 9 years old when his parents purchased Juniper Hill Farms north of Lawrence.
Scott worked at Bismarck Gardens during junior high, then purchased old haying equipment when he turned 15. He baled 800 small square bales the first year but was up to 10,000 by the time he graduated high school in 2009.
"I was stupid to do square bales," he joked. "Big round bales are so much easier. I also wanted to plant a better hay crop so I made 13 passes around the pasture with a small disc and tilled up a half inch of soil. I learned a lot the hard way."
Scott delayed college for a year so he could farm. In 2010, he secured a grant from the National Resource Conservation Service (NRCS) for a high tunnel. Also known as hoop houses, these structures extend growing seasons.
"I started vegetable farming because of the NRCS grant. The high tunnel was 9 feet tall, 20 feet wide and 96 feet long. I just fell for it. The tomatoes grew to the ceiling."
After a year of farming, Scott attended Iowa State University majoring in agribusiness with minors in agronomy and ag entrepreneurship.
"It was their ag entrepreneurship program that sold me. I'm a first generation farmer and intend to do this full-time. I don't want a second job."
During college, Scott increased vegetable production on the farm by converting land surrounding the high tunnels into vegetable production.
"Instead of making 13 rounds with a disc, we plow one year and use a ripper the other. Potatoes and beets like their soil loose instead of compacted. We began with a quarter acre of vegetables and expanded to 18 acres by 2015. This year, we'll increase to 55 acres and plant strips of wildflowers for pollinators.
"We started off with one high tunnel, but now we have two. Last year, we harvested 1,500 pounds of cherry tomatoes from just one high tunnel," he said. "This winter, we're growing 60,000 organic onion starter sets."
His crops include sweet potatoes, kale, beets, chard, leafy lettuce and squashes. These align with efforts in the U.S. farm bill to stimulate more vegetable production through the Specialty Crop Block Grant.
Planting vegetables requires different methods and equipment than conventional crops.
"We often plant actual plants instead of seeds so I found a rusty old transplanter, repaired it, and it works like a charm," he said. "It cuts a furrow, drops the plant in, covers it then drips water on it. Twenty-five days later we harvest it, but then comes the hard part. You can grow a great crop, but if you don't know what to do with it afterward, you lose."
Globally, much effort is focused on reducing post-harvest losses, which often reach 40 percent. Although agricultural production has to increase 75 percent in the next 35 years to feed the world, minimizing post-harvest losses reduces that percentage. Therefore, Scott develops post-harvest handling methods to diminish loss and increase revenues.
"Cold storage is critical so we converted a horse stall in our barn. We wash the produce then put it back in cold storage. We also use a refrigerated truck to extend the shelf life. This year, we harvested and sold 60,000 pounds of squash and only lost three tubs. But that was because it accidentally froze in our refrigerated truck," he chuckled.
Tubers, like potatoes, are repeatedly washed and brushed in a conveyor then hand-separated by size. Leafy produce, like lettuce, is washed three times then spun in the greens machine at 600 RPM.
"Getting the water off of leafy vegetables is critical," he said. "Just doing that extends the shelf life for a week. Once we clean the produce, it goes quickly to market."
Juniper Hill Farms, along with three other farms, have 200 customers who are members of an organic CSA (Community Supported Agriculture). They also sell to school districts, restaurants and grocery stores. An acre of vegetables can gross 10 to 12,000 dollars per acre.
"We are USDA certified organic which means we can't use synthetic herbicides, pesticide or fertilizers," he said. "But I have a lot of respect for conventional farmers who are some of the most sustainable people I know. They maximize returns-to-soil through use of no-till farming and cover crops.
"I want to increase the amount of land I work and recently leased 30 acres near us. I prefer to grow organic, but the owner wanted it farmed conventionally so we are," he said.
To ensure he never needs a second job, Scott builds a strong network of agribusiness professionals to continue learning.
"I've been a member of Kansas Farm Bureau (KFB) for some time and I was recently asked to serve on the board for the Douglas County Farm Bureau. I also joined KFB's YF&R (Young Farmers and Ranchers) to develop my leadership abilities. The average age of the CEO on a family farm is 56," he said. "So I am one of the voices of the next generation of farmers, which includes specialty crop producers like myself."
In addition to Kansas farmers feeding the world with crops like wheat, corn and soybeans, the next generation of farmers like Scott are resurrecting vegetable production once popular in the region.
"I know old-timers who grew 200 acres of vegetables in the 1940s," he said. "The Kaw Valley Cannery was once a booming business in Lawrence."
Scott embodies the American farmer's attitude of hard work, enthusiasm and risk taking. His generation of farmers is rising to the challenge to produce as much food in the next 50 years as has been produced in the history of humanity.
---