By

Rick McNary

on

December 14, 2015
Ag Eagle creates new opportunities for Southeast Kansas man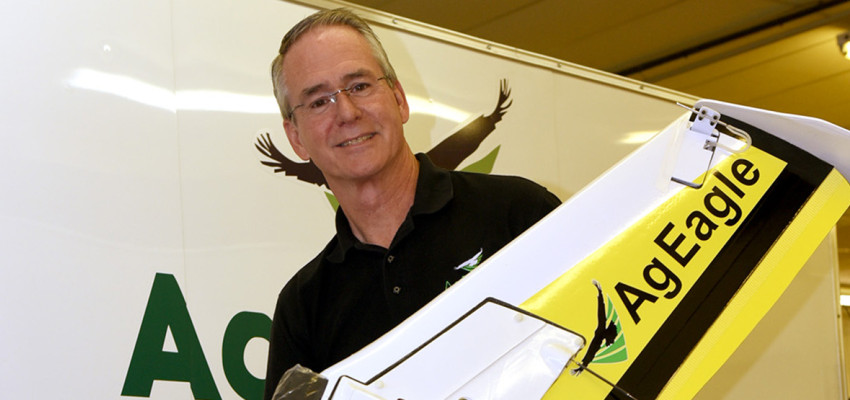 Bret Chilcott spent too much time and money on remote-controlled airplanes while growing up on a farm near Udall, Kans. At least that used to be the opinion held by Bret's father. Bret has now transformed his love for these toys and farming into a sophisticated agricultural tool with the invention of the Ag Eagle.
The Ag Eagle, an unmanned aerial vehicle (UAV), is designed to fly over a field photographing thousands of near infrared images to collect data on crop and soil conditions. After it lands, cloud-based software stitches the images together to provide a composite of the field.
 "This technology moves precision ag into decision ag," Bret said. "A grower can now make an assessment of a field based on hard data generated by the Ag Eagle."
Within 15 minutes after the Ag Eagle lands, the data collected is converted into a prescription application that can be sent to a commercial applicator. The applicator can pull into the field, lower the booms of the sprayer and apply specific inputs.
"Steve Jobs said you couldn't connect the dots looking forward, only by looking backward. So looking back, my love for flying remote-controlled airplanes plus a career in sales, marketing and lean-manufacturing all connected together to help me create the Ag Eagle," Bret said. Bret was one of three Kansas applicants for the American Farm Bureau Foundation Entrepreneurial Award.
 "A few years ago, the manufacturing company I worked at for 12 years went through downsizing and suggested I find other ways to generate my income," Bret joked. 
Out on his own, Bret started an initial business of making carbon-infused wings for portable wind generators so soldiers could charge electronic devices in the field. He came up with the idea for the Ag Eagle at a Kansas State University workshop led by Dr. Kevin Price.
 "As an entrepreneur, I'm always looking for the next big thing so I listened to Dr. Price talk about the future of agriculture and technology. I saw the opportunity to create a UAV to collect data about crop and soil conditions. After the conference, I offered to buy lunch for numerous farmers and agronomists to learn what they would need from such a vehicle and system," Bret said.
"The most challenging aspect for any entrepreneur who has an idea for a widget is the place to actually make the widget," Bret said. "If you can't manufacture your product, then you can't take orders. If you can't take orders, you can't make money. Although I started off making the Ag Eagle in my basement, I discovered an insurance company won't insure a home if commercial products are being made.
"I moved into an empty facility owned by Cobalt, but they started spooling up their business again so I had to find another location," Bret continued. "I went to the mayor of Neodesha and explained my circumstance. I told him that a town in western Kansas offered to build me a brand new building if I would move my operations there. Within three days the city of Neodesha purchased this building as a business incubator. This building was the make-it-or-break-it point of our business expansion."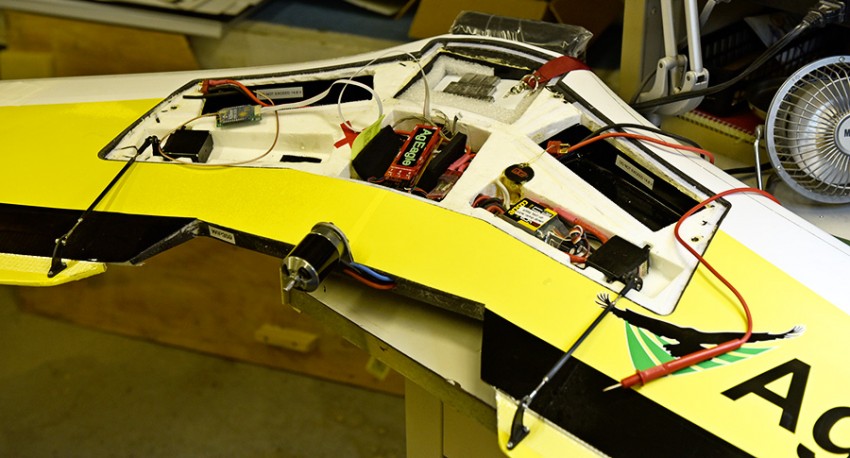 The shape of an Ag Eagle resembles a stealth bomber, yet can easily be held in your hands. Although a joystick is part of the flying apparatus, the navigation is preset into a computer program. Prior to the launch, the Ag Eagle is given a path to fly and a predetermined place to land.
"After I built the first one, which took us a year of R&D, I had numerous requests to see the Ag Eagle in action," Bret said. "So I made a deal with people wanting to see it work: 

You have to promise not to laugh at my ugly airplane.
If you like it, will you buy it?"
Bret traveled through the Midwest in his pickup to demonstrate and sell preorders for the Ag Eagle. He was careful to listen to grower's advice then make adjustments to the technology.
"We did our research in the field with farmers and agronomists helping us tweak the system," Bret explains. "While some big companies were at conventions talking about what they wanted to do with a similar product, I was knee-deep in mud in a corn field making sure the Ag Eagle held up if it hit a corn stalk or a fence post. I was also selling preorders as we built it. I understand the basic principle of business that nothing happens until something gets sold."
The Ag Eagle was created to help growers use real-time data to boost yields and reduce input costs on a daily basis. Furthermore, growers can gather input on crop health and soil conditions more quickly than any other method. Even crop damage for insurance claims can be determined quickly and accurately by the Ag Eagle.
While Bret is not alone in the creation of a UAV, also known as a drone, he believes his product stands out against its competition because it was developed in western Kansas withstanding winds of 42 mph. Bret also believes one reason for the success of Ag Eagle is because they have maintained focus on one specific area whereas other companies explore multiple uses. In addition, the current regulatory environment gives a small company like Ag Eagle the ability to test its product with growers.
Tom Nichols, Ag Eagle's business development director says, "Bret is brilliant with technology, but his real skill is surrounding the company with the right people to make it successful. He's also used his marketing skills to expand our sales to foreign countries like Canada, Australia and Brazil."
Experts say that agricultural production will need to increase 75 percent in the next 35 years to feed an estimated world population of 9 billion people. We need inventive entrepreneurs like Bret to keep connecting the dots of their life to create agricultural technologies to help feed the world.
To read more about UAV's, check out Robin Giblin's article on American Farm Bureau's site:  Drones Bring Broad Opportunities and Implications for Agriculture.
---