on

November 12, 2015
Just as we depend on Santa to deliver holiday gifts, farmers and ranchers work hard daily as we depend on them for the food we eat.
You Will Need:
2 candy canes
10 assorted HERSHEY'S
Miniatures candy bars
1 KIT KAT(R) candy bar, full-size
Holiday ribbon or bow
Glue dots or small craft glue gun and glue sticks
Scissors
PLEASE NOTE: If you use a glue gun, this project requires adult assistance and supervision.
Instructions:
Turn the KIT KAT® package bottom side up. With your glue gun, run a line of glue down each long edge of the KIT KAT® bar package.

Place candy canes on top of the glue on each long edge, loop side down. When the candy canes are dry and secure, turn it over.

Next, place a dot of glue on the bottom of each Hershey's bar and place them side by side on top of the KIT KAT® bar as shown.

Repeat this by stacking the other three layers like a pyramid.

After the glue is dry, cut two pieces of holiday ribbon, two feet long. Take one piece and wrap it around the sleigh and tie it in a knot as shown. Cut off the excess ribbon.

Take the second piece of ribbon and tie it as shown into a bow. Or, simply glue a pre-made bow on top. That's it! It's a gift you can enjoy giving and eating.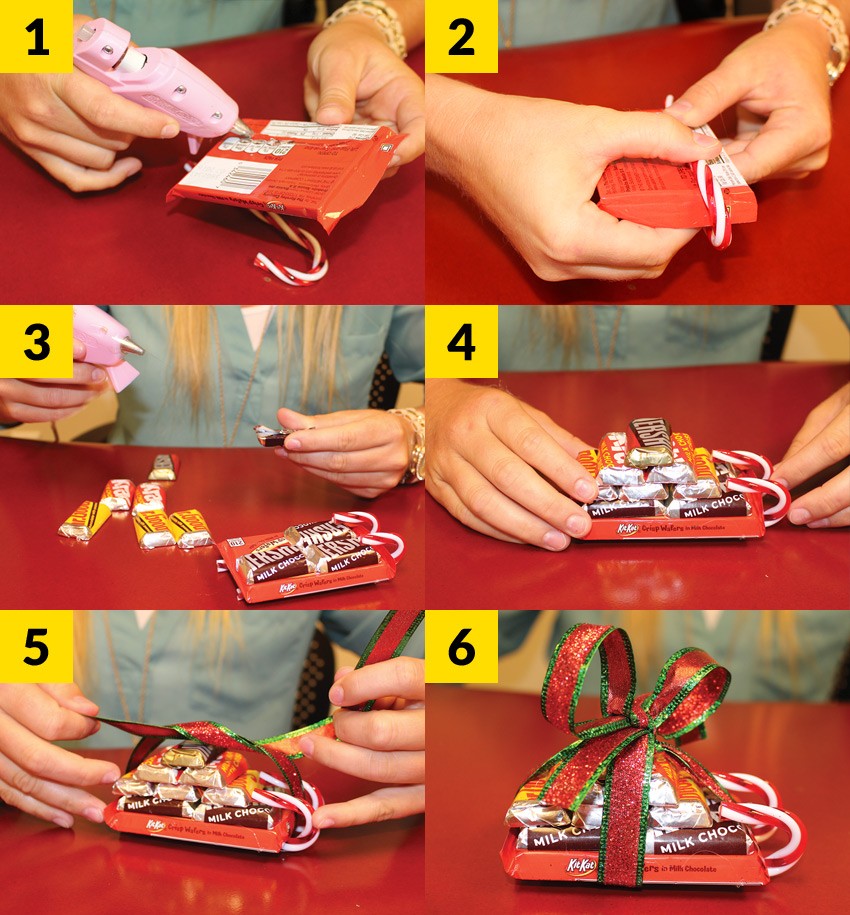 ---