on

August 15, 2014
New ag education program offers agricultural connection in a Wichita suburban school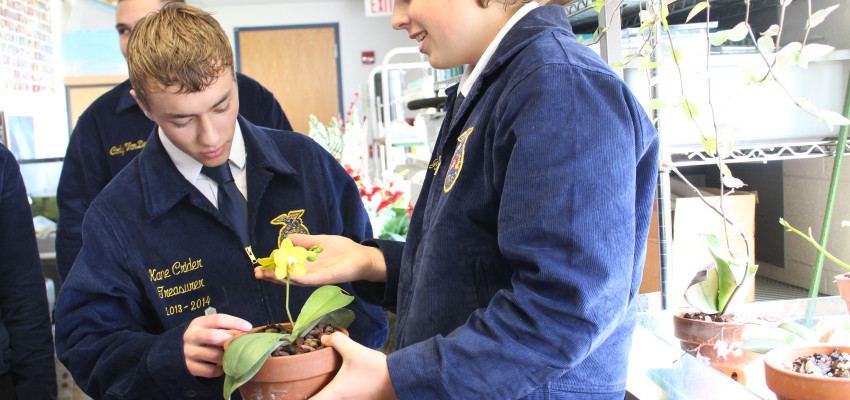 Maize is growing. And fast. According to the U.S. Census Bureau, Maize is the fastest growing large community in Kansas, with a population growth of 11.7 percent (403 residents) since 2010.
It is a trend most evident in its school system. In 2009, Maize Unified School District 266 opened a second high school, Maize South, now 4A, along with its existing 6A school, Maize. With about 1,300 students in grades 9-12, Maize High School represents a largely suburban/urban community just west of Wichita in Sedgwick County.
So when MHS was one of eight schools in the state to start an ag education program last year, all of whom received grant funding from Kansas Farm Bureau, the local ag community took notice.
"Seeing an ag ed program established in a suburban school here in Sedgwick County is a huge first step in offering area non-farm students a wonderful opportunity to learn about food production and processing through the prism of agri-science," says farmer and Sedgwick County Farm Bureau President Kent Winter. "Additionally, this program will provide a priceless foundation for networking with peers and mentors from other ag ed programs and will open up a brand new pathway for personal and business relationships beyond high school."
Maize High School turned to non-ag science teacher Jay Super to start Sedgwick County's first ag program.
"The ag program was an extension of what I was already teaching — botany and zoology," Super says. "I took my existing curriculum and gave it an "ag spin."'
Of the eight career pathways within agriculture, MHS started with the Agriculture Science pathway. In the first year, it offered Intro to Agriculture, Plant and Animal Science and Accounting. With students on the waiting list to get into some ag classes, the school hopes to add a Food Science course soon.
"Many urban students have lost the connection to the farm and to agriculture. Most have no idea as to the source of their food or what is involved in producing and preparing it," says Kurt Dillon, Agriculture Education Program Consultant for the Kansas Department of Education and Kansas FFA Advisor. "With world hunger at the forefront of the news and scientific discussions, we need bright, science-minded students to enter the agricultural and food production career areas. Some of these urban students want to connect to the land or solve world problems; ag education helps them find their way."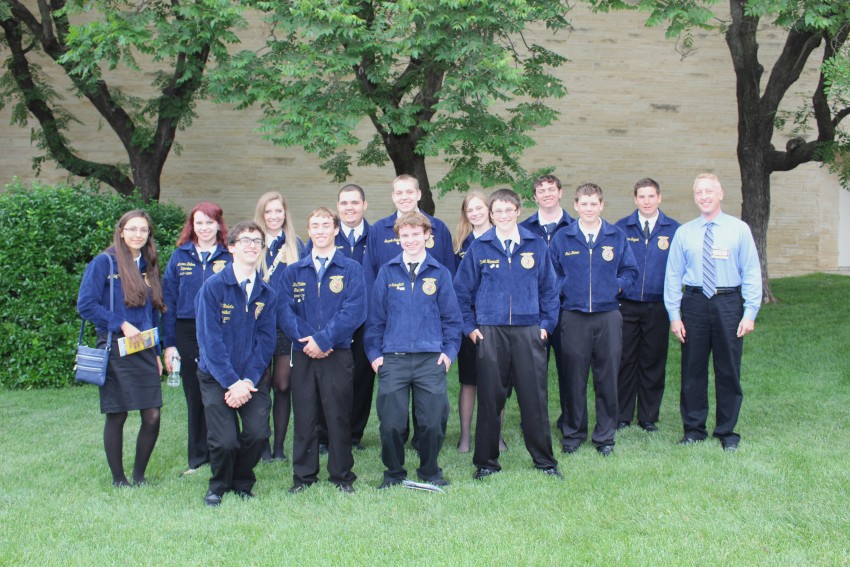 At the school's kickoff celebration early in the 2013-14 school year, Maize High School signed up 65 student FFA members. Of those, only two or three actually live on a working farm.
"Another seven or eight have relatives who live on a farm. The rest could be described as suburban kids who live in the city," Super says. "However, there is a real interest with these students about where food comes from, how it's produced and processed, and the science and technology behind it. They also seem to be interested in getting both sides of the story when it comes to many of the ag issues they hear about in the media."
Josh Brown, Maize High senior, spends weekends working on a farm in Enid, Okla. He sees more to FFA than just production agriculture.
"There was one kid I was able to pull in," Brown says. "He thought it was only for farmers. I was like 'no, there's leadership. And it's just kind of fun to do it.'"
Kansas Farm Bureau provided all eight new ag programs with startup grant funding. Super attended a recent Sedgwick County Farm Bureau board meeting where he discussed the program and its goals. The county agricultural organization is one of many helping to support the program.
"We will be covering a portion of the cost involved for sending the officers to training sessions this summer. We also extended an offer to be available to provide on-farm demonstrations for the students," Winter says.
Although area agricultural leaders have rallied around the suburban ag program, there are still stereotypes that FFA and ag education are only for farm kids.
"Our FFA, for sure, has an urban ag flavor to it," Super says. "I think that's something that we'll get across eventually to the school that you don't have to have cowboy boots, and you don't have to ride a horse. It's fine if you do, but I think FFA has just as much to offer city kids as it does for rural kids."
The success of the Maize High School agricultural program has opened the door to future urban programs. According to Dillon, FFA has been approached by Emporia, Derby and Wichita public schools.
"We are also adding ag programs to small, rural schools that have never had an ag program or lost it several years ago," Dillon says. "Several programs are adding second and third teachers to existing programs."
---