Tailgating with Nutrition in Mind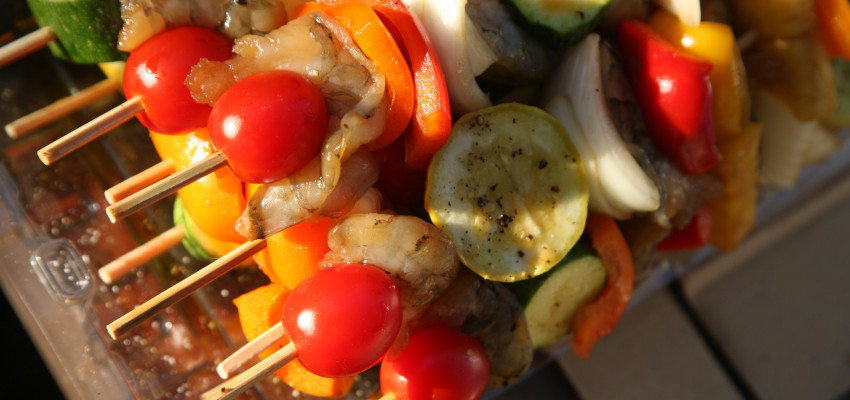 Supporting your favorite team is always fun. When you add in tasty food, you up your game, but we may end up calling "foul" on our waistlines.
Registered dietitian Karen Hanson offers tips to keep nutrition in mind without sacrificing taste and fun. 
Go lean
Use lean meat in chili and other favorites to keep the flavor you and your family love while cutting fat and calories. Carrots and zucchini add fiber, color and flavor to sloppy joes and chili.
Pizza pizzaz
Grill your own pizza with whole-wheat crust, shredded low-fat cheese and lots of veggies. You'll save money on carryout and have more control over ingredients.
"Chop tomatoes, onions and green or red peppers ahead of time," Hanson advises. "Personalize the pizza with favorites like mushrooms or olives. Grilled pizza is delicious; kids love making their own pies."
Did you say salsa?
Salsa makes a great dip. It has less fat and fewer calories than traditional dips and makes a colorful addition to the tailgate spread. Cut fat further by choosing baked chips.
Kabobs for the win
Sports fans of all ages love kabobs. They can design their own meal on a stick with a variety of meats and vegetables. "Try pineapple chunks with chicken and peppers for a Hawaiian twist," Hanson says. "Brightly colored vegetables and fruits add nutrition to tailgating fun and picky eaters won't even notice."
Delicious dip
Greek yogurt can be a lower-calorie, protein-packed tailgate staple. Mix plain Greek yogurt with taco seasoning for a delicious dip. Stuff twice-baked potatoes using seasoned Greek yogurt for flavor and added protein.
Fiber full
Fill up on fiber. "More fiber will not only help you feel full longer, but also avoid overeating those game day goodies," Hanson notes. "Use whole grain breads and buns or wraps in your sports celebrations."
Have fun
Vegetables and fruits add team colors – and nutrition – to tailgating fun. Diced red onions show purple pride; red peppers and grape tomatoes bring school spirit while packing a nutritional punch. Throw in baked blue, red or purple corn chips for more lower-fat color. Strawberries, blueberries, purple or black grapes, pineapple and angel food cake cubes make great dessert kabobs that say, "Go, team!"
Find more tailgating recipes and tips on these websites:
---