Mitch Holthus and the Kansas City Chiefs
Holthus has positioned himself as a Kansas jewel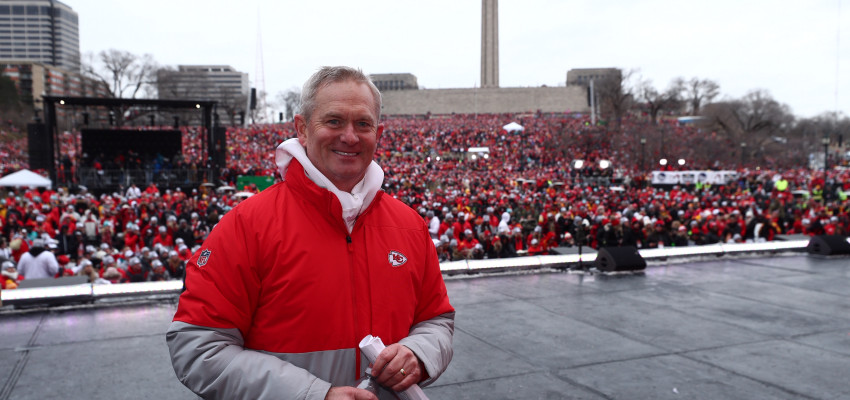 Mitch Holthus knew the Kansas City Chiefs had won Super Bowl LIV when Damien Williams ran 38 yards for a touchdown with just over a minute remaining in the game. The score put the Chiefs up 11, and Holthus, the team's radio play-by-play announcer, captured the moment as only he could.
"Handoff. Damien Williams trying to get to the edge. Breaks a tackle, 35, 30. Damien Williams 20. Stays in bounds, 15, 10, 5. TOUCHDOWN, KAN-SAS CITY! Damien Williams runs to immortality and will be remembered forever in Chiefs Kingdom."
The whole call took 20 seconds and is just one of thousands of snippets of Holthus using his voice to create a vivid image inside listeners' heads while simultaneously placing that mental picture perfectly into historical context.
Aside from that, there are two elements of that call that are easy to overlook. The first is Holthus' trademark over pronunciation of the second syllable in Kansas. In the moment, the emphasis reflects the on-field delirium. The second is the "Chiefs Kingdom" reference, a moniker Holthus coined.
Those overlooked but crucial elements also get at the paradox of Holthus, a man seemingly always in the public eye but never directly in the spotlight.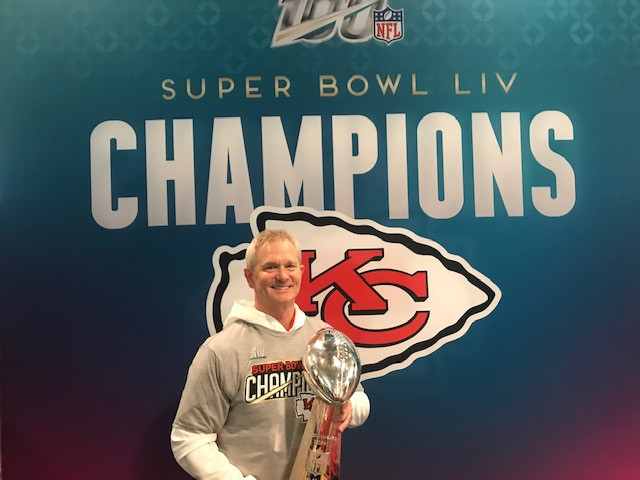 FARM KID
Holthus grew up on a farm 10 miles northwest of Smith Center, about a dozen miles from the Nebraska border in north-central Kansas. His family grew wheat, milo (grain sorghum) and prairie hay. Holthus and his two brothers fed cattle, farrowed pigs and kept an eye on the chickens in the brooder house.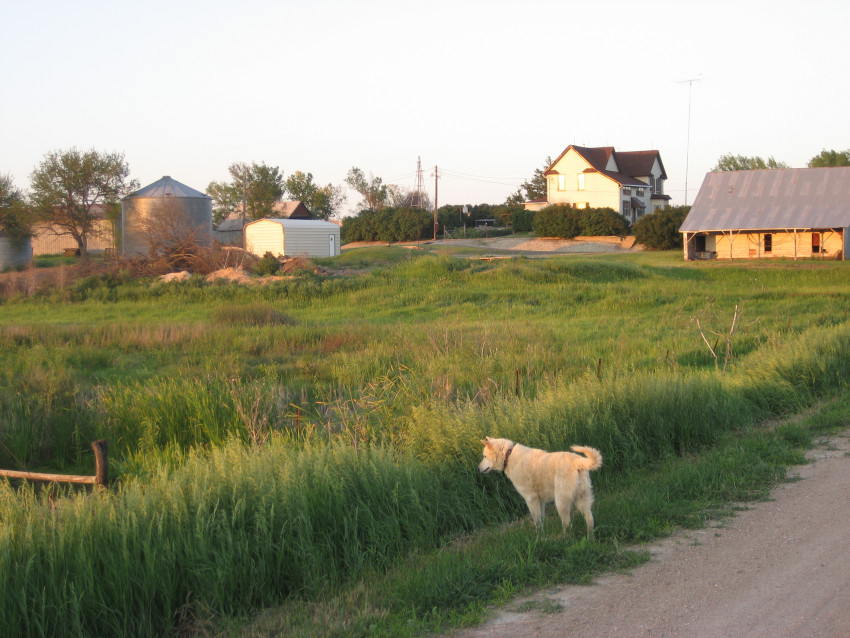 Holthus says his childhood included a "loving mother and father within a great disciplined environment."
"You had chores to do and expectations of work," he says.
His farm background often bleeds through into his calls on Sunday afternoons in autumn. Holthus says he sees himself as an ambassador for agriculture in a world where people don't often think about where the food on their plate comes from.
"There's times I mention agriculture a lot in these broadcasts, typically when it's in the heat of the fall season," Holthus says. "I think about those gals and guys finishing planting, harvesting row crops, fixing fence or out feeding cattle. I was that guy listening to the games, and I want to be their conduit."
BEYOND THE VOICE
Before joining the ranks of professional football broadcasters, Holthus cut his teeth doing play-byplay for his alma mater, Kansas State University.
"My viewpoint on my career might be a little bit different from others," Holthus says. "It's the same way it was, hopefully, when I was the voice of the Wildcats for 13 years. It's leaving a footprint. It's way more than just doing the games."
The bigger the stakes or more historic the call, the more likely Holthus has always been to reference art, literature, pop culture or even the Bible. In 1993, K-State beat Oklahoma in football for the first time in more than 30 years. Holthus turned to the second book of the Old Testament.
"For the first time since Exodus Chapter 14, the Red Sea has been parted and Pharaoh's Sooner chariots have been swallowed up because Bill 'Moses' Snyder says, 'Let my people go from 23 years of Sooner bondage.'"
Holthus freely recites such calls and lists accomplishments like coining "Chiefs Kingdom" in a subdued manner. Much like his broadcasts, Holthus answers questions about his personal life with references and anecdotes of others, constantly searching for the right story to connect with his audience.
Questioned on his modesty, Holthus refers to the Bible again. "God is opposed to the proud, but gives grace to the humble. James 4:6."
"I don't want to come across as arrogant or proud or any of that." Holthus says. "I do think there's a pride that's proper. There's a pride in being a remnant, a survivor so to speak. Someone who's willing to be there when there's a challenge."
During speaking engagements, he offers a cash reward if he can't name the mascot of a Kansas high school shouted from the audience.
"It's a fun way of tying everybody together," Holthus says of the game. "We're divided in so many ways, but what are the ways that can unite us? Those nicknames are a way to do that. It's also a fun way of accentuating all 105 counties in the state."
THE FUTURE
Holthus began his 27th year as the Voice of the Chiefs this fall. He's called more than 400 games, and he's certain
of two things.
"I don't want to do it forever because it occupies a lot of time," Holthus says. "I just want to continue to make a deeper impact on those around me."
He appreciates the recognition he receives for being "the messenger of some awesome moment" in a game, but that's not what drives him.
"You want to make your life count," he says. "I love Kansas, just love the state. It's why I play the mascot games when I speak publicly. It's an awesome state, and I want to be remembered as someone who maybe enhanced the story of my home state."
On the bookshelf in Holthus' home office, next to his spotting cards from the Super Bowl, is a replica of the 2017 Kansas State High School Activities Association championship trophy the Smith Center Redmen claimed. He's also deeply involved in preserving and enhancing the cabin where "Home on the Range" was penned by Dr. Brewster M. Higley.
Holthus says Kansans take the "iconic" song for granted. "It really is an international treasure that is our state's," he says.
The preservation of the cabin has been a family affair among his father, great-aunt and uncle. As for Holthus, his status depends on the audience.
He claims he's the jester in Chiefs Kingdom. To the players, he's the "Gatekeeper," or ambassador outside the castle wall telling their stories. To fans, Holthus is exuberance personified during big wins and a light in the darkness during down times.
For his home state, he's a jewel. Though he'd never say it.
From his roots in agriculture, to his signature "KAN-SAS CITY," heard by hundreds of thousands of Chiefs fans, Holthus makes Kansas proud, even if the Chiefs are technically in Missouri. 
---